Andy Warhol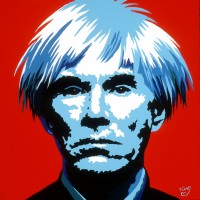 Andy Warhol was born to a working class family in Pittsburgh, Pennsylvania in the summer of 1928. His father was a construction worker and a coal miner. At the early age of 6 he was stricken with a neurological disorder which often left him confined to his bed. During this time Andy found comfort in comic books and celebrity magazines, images and themes that he would use later in his career as a painter. After graduating with an art degree from the Carnegie Melon Institute in 1949 Andy moved to NYC to begin a career as a commercial artist.
Upon arriving in New York city Andy found a lot of success as a commercial artist creating artwork for magazines like Glamour, Vogue, and Harper's Bazaar. In the early 1960s Andy began painting pictures of popular comic strip characters like Dick Tracy, Popeye, and Superman. He also began using the printing process as an art form, using images of products from advertisements and grocery stores such as Coca-Cola bottles, Campbell soup cans, and SOS soap pads. During this time his popularity soared, making him a household name, as such many famous musicians and actors would have their portraits printed by him. His unique images garnered a lot of enthusiasm from galley owners and collectors and started what would become known as the American Pop Art movement.
.
I can hone my selection skills by refining the selection in the Quick Mask mode.

I can create a variety of moods within a work by exploring and building a repertoire of effects in the Filter Gallery.

I can make adjustments to the effects of the Filter Gallery by making adjustments to the settings dials.

I can manage the different layers in my image by utilizing the organizing  features of the Layers Panel.

I can blend the different styles from the separate layers together by using the Blending Modes of the Layers Panel.

I can create a multi-layered graphic image by using Adobe Photoshop to combine my various designs into one graphic.
Questions to Consider
What are the distinguishing characteristics of Andy Warhol's portraits?
What are the different parts or features of his portray paintings?
How would you describe the mood of the paintings?
How does the color effect the mood of the pictures?
How does Warhol's use of color differ from reality? how are Andy's portraits
Project I | Warhol Portraits
Analyze the Andy Warhol paintings provided in the slide show above. After considering the questions regarding his work and studying his paintings you are to create a series of portraits in the style of Andy Warhol in Adobe Photoshop Filters Use the following tutorial to guide you in your exploration of the Filter and Blending Modes as you construct a portrait in the style of Andy Warhol.
Tutorial | Pop Art Portrait Part I
.
Tutorial | Pop Art Portrait Part II
.
.
Project II | Galaxy Portraits
In these tutorials, study how two artists adjust the Threshold of a portrait image to isolate the highlight and shadow levels, make a selection by color range, and integrate a galaxy image by creating a clipping mask over the portrait. The slide show below provides an abridged version of the second video.
Tutorial | Galaxy Portrait
Create a self-portrait that mashes the various portrait techniques presented. Incorporate the Andy Warhol Filter techniques, the Galaxy Logo Design methods, along with other mash-up ideas to create an original self-portrait that superimposes various imagery combined with the Filters and Blending Modes that Photoshop has to offer.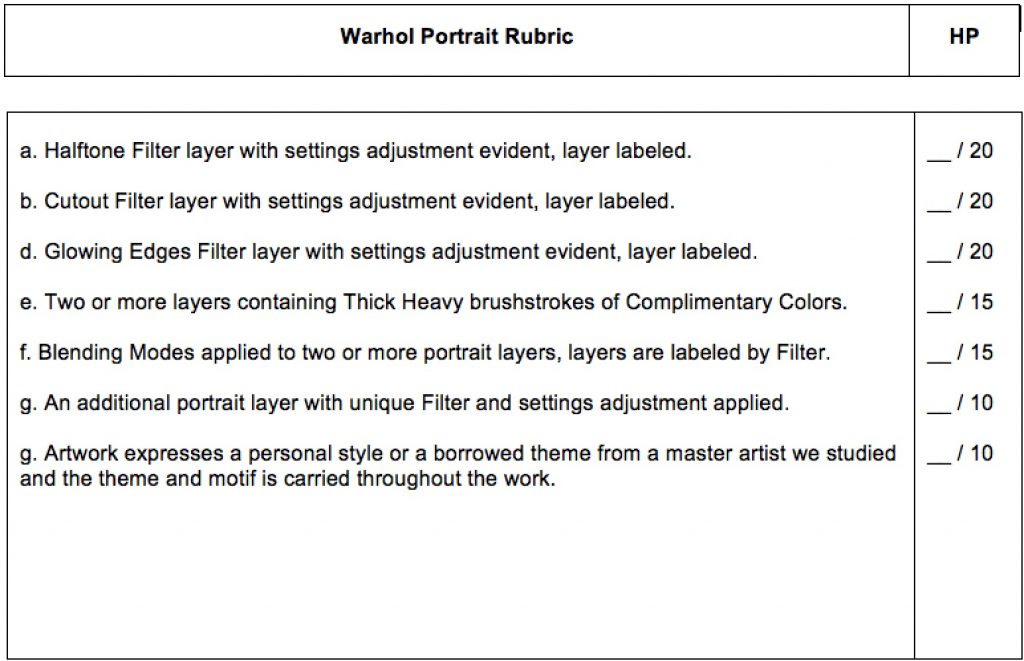 http://www.businessinsider.com/ostagram-mashes-together-two-images-2016-4
.