Faith Ringgold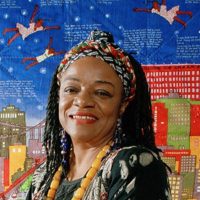 https://docs.google.com/forms/d/e/1FAIpQLScb5_5BgovtUlAoZ9yqWdhjmbIxmaCHwx1fjhTHi1tNErULAw/viewform
Faith Ringgold, artist and author, was born in 1930 in Harlem, New York. Her artistic career began more than 35 years ago as a painter. Today, she is best known for her painted story quilts — art that combines painting, quilted fabric and storytelling.
Her mother and grandmother promoted African-American culture and she had many wonderful role models as neighbors. Among them were Thurgood Marshall, Dinah Washington, Mary McLeod Bethune, Aaron Douglass and Duke Ellington.
Ringgold uses her art to tell her own story, and in collaboration with her mother, began to sew fabric borders around her paintings, instead of stretching the canvas over wooden stretchers in the traditional manner.
In the 1990's Ringgold continued to craft images dealing with the issues of slavery, racism, and sexism in her work, but combined with her folk-inspired style some aspects of modern and contemporary painting, such as Abstract Expressionism and Pop art.
Ringgold has written and illustrated over eleven children's books, which she uses as vehicle to communicate her ideas and vision. She says her goal is to give back to children some of the magic she has received from them. Her 'motto' on her site is If One Can Anyone Can All You Gotta Do Is Try. This motto like her work is joyful, rich and inspiring.¹

.
Questions to Consider
What are the various themes evident in Faith Ringgold's work?
What symbols or images does she use often in her work, what is a reoccurring theme?
What moods does she create in her works? What elements help to create the mood in the paintings?
What do you feel is most important to Ringgold?
What are the distinguishing features of Ringgold's work?
Can you list the various components or parts of Ringgold's quilts?
How would you prioritize the different images you gathered for your quilt?
How would you organize elements within a composition to create a story or theme?
What way would you design a story or a theme using the images you gathered?
How do the skills developed in the previous projects help develop the new illustration?
What are the parts or features of your quilt that add to the story?
How would you organize the various elements so that all the items fit together to make a balanced whole?
.
What challenges did Faith Ringgold face when trying to get her works into galleries?
How did Ringgold surmount the challenges that faced her?
How do feel her early childhood influenced her choice to become an artist?
Why do you feel activism was important to her and her artwork?

Taking Flight / An Interview with Faith Ringgold from Institute for Women's Leadership on Vimeo.
Project Tutorial | Pattern Maker
For this project you'll need to generate five to seven patterns by exploring and applying the pattern and texture tools included in the online painting tool MudCube. Gather a variety of rich and colorful patterns by exploring the Swatch and Pattern windows in MudCube. Use the following tutorial to guide you in gathering patterns that you are to save in your (H:) drive, to begin create and save large rectangles of single patterns that you will combine later in a multilayered image computer graphics program like Photoshop or Sumo Paint.


Sumopaint Explore the different effects that can be
created with using the different settings and colors
provided. Demonstrate your ability to…

MudCube Explore the different effects that can be
created with using the different settings and colors
provided. Demonstrate your ability to…
Kathrin Kuhn | Collage Artist
Featured collage artist Katherine Kuhn works as a graphic designer and illustrator in Berlin, Germany. She creates vibrant feelings in her work by applying and juxtaposing enticing patterns and rich textures that create a lush colorful feeling in her work. Katherin creates and energetic expression in her collages by clashing colors and patterns to create contrast and tension. ƒ
.
Project Tutorial | Silent Actress Collage
.

Metropolitan Museum of Art
Thematic Essay: Modern Story Tellers, Romare Bearden,
Jacob Lawrence, and Faith Ringgold.
Vocabulary Concepts
Collage n. 1. a form of art in which various materials such as photographs and pieces of paper or fabric are arranged and stuck to a backing.
Composition n. 1. Arrangement of artistic elements so as to form a unified whole.
Color Harmony n. 1. A grouping of colors based on relationships between the colors on the color wheel.
Depth n. 1. the amount of space in a picture.
Pattern
Space n. the feeling of depth in a picture.
Shape 1. the outward form of an object defined by an outline.
Digital Collage Rubric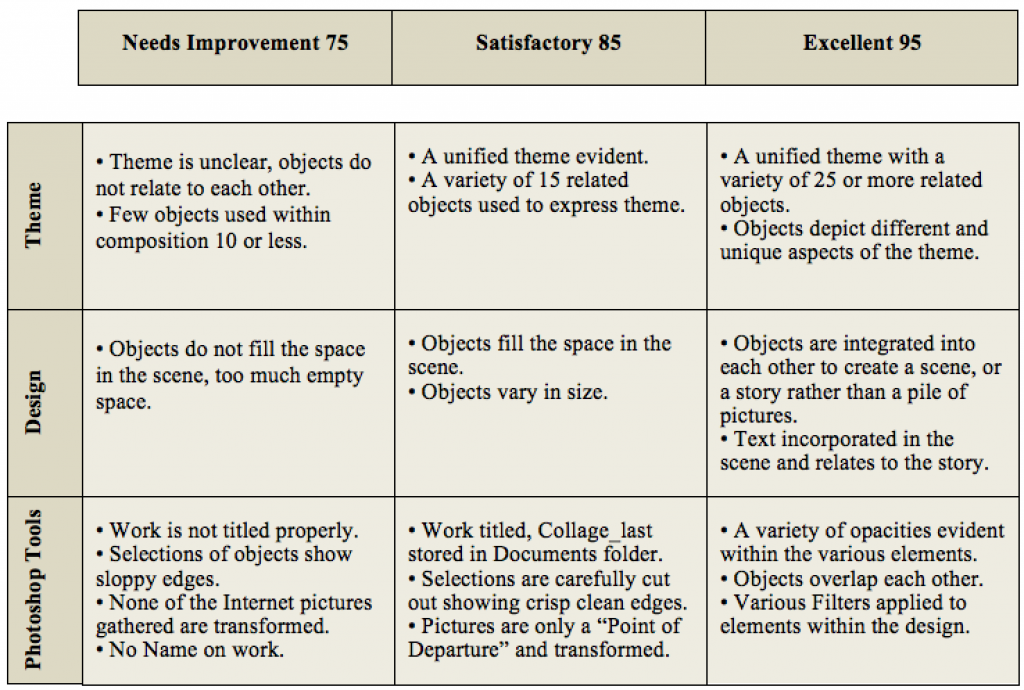 ¹ Source: National Women's History Project. www.nwhp.org., Retrieved 11/01/13
² Faith Ringgold: Artist and Activist, http://www.makers.com/faith-ringgold, Makers.com
³ Timpane, P. An Interview with Faith Ringgold, 05/03/2010,  Institute for Women's Leadership Retrieved 02/21/2017.
ƒ Kathrin Kuhn, katherinkuhn.com, Retrieved 02/06/18