NYS Summer School for the Arts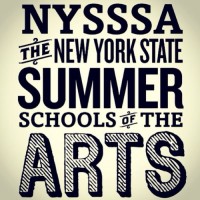 FOR IMMEDIATE RELEASE:  NYSSSA is offering training in the specific disciplines of ballet, choral studies, dance, media arts, orchestral studies, theatre and visual arts for the summer of 2018. The schools partner with artists from world renown performing arts companies and venues and include an artistic staff that is internationally acclaimed in the arts. The schools are open to all NYS Residents currently in grades 8-12 except for ballet which is only for grades 6-12 for the School of Ballet.
Links from NYSSSA's website provides eligibility and application information along with resources regarding the School of Visual Arts Application Process. There you'll find portfolio stipulations and important information about your entry. Deadline for the Visual Arts submission is February 28, 2018.
Linked Resources
School of Visual Arts Student Portfolio Contents Form
School of Visual Arts Student Portfolio Rating Form
School of Media Arts 2016 Application Process