Lois Mailou Jones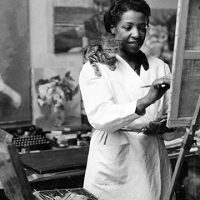 Lois was encouraged to draw by her family and teachers who admired the drawings and storybooks she created at a very early age. She was born in Boston in 1905 and attended a special Art High School where she received some important awards. While in high school she also took night courses at Boston's Museum of Fine Art studying art and costume design. She is noted for her use of traditional African forms and shapes such as masks, with a mix of iconic African and Caribbean colors and patterns that blend a variety of African American themes.  Though she was not a resident of New York, she is closely associated with the Harlem Renaissance community through a shared influence and close personal relationships with many of the painters and writers of the time. When Lois was 32 she awarded a fellowship to study in Paris. There she would find much success and felt more comfortable away from the discrimination she was faced with in the U.S. Her career excelled in textile design and she was warmly welcomed in the Parisian city.
.
Questions to Consider
What are the distinguishing features of Lois Mailou Jone's work?
What symbols or images does Jones use a lot?
What are the different parts of her paintings?
What do you think is important to Jones?
How would you prioritize the different images you gathered for your composition?
How would you organize elements within a composition to create a story, statement, or theme?
What way would you design a story or a theme using the images you gathered?
How do the skills developed in the previous projects help develop the new illustration?
How would you organize the various elements so that all the items make a balanced whole?
How would you apply the knowledge you gained about the subject to develop a website?
Textile Design
Article
Childhood and young adult, her
education, honors and awards.
American Art at the Phillips Collection
Compare and Contrast
.
Questions to consider
Recalling our studies with Faith Ringgold's work, what similarities can you see between Faith's work and Lois Mailou Jones' work?
What art elements do you see when inspecting Lois Mailou Jones' artwork?
What objects, themes, motifs, do you see when analyzing Lois Mailou Jones' work?
What message do you interpret, how will you organize lines, shapes and colors to create a different artwork unique to you?
How does one develop a motif, what is your motif?
What rules can we follow that will help us construct a well proportioned portrait?
Student Themes and Motifs
.
Sources:
http://www.loismailoujones.com
http://hrnazericlena.weebly.com/lois-mailou-jones.html
http://www.loismailoujones.com/about/timeline/childhood-education-1905-1927
http://americanart.si.edu/collections/search/artist/?id=5658
https://alchetron.com/Lois-Mailou-Jones-1341501-W
Good Morning America Interview with Lois Mailou Jones, https://www.youtube.com/watch?v=q6aLZ222hKs
Wartts, Adrienne, Independent Historian, Jones, Lois Mailou, http://www.blackpast.org/aah/jones-lois-mailou-1905-1998