Lego Perspectives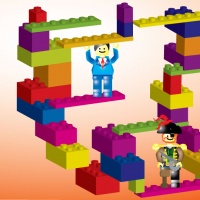 Linear perspective can help designers render 3 dimensional objects in space, creating form and depth within the design. Utilizing the 3D Extrude & Bevel, 3D Revolve tools, and exploring the various settings within these tools, construct a series of Lego blocks varying the size and color to construct a Lego structure. What  art elements are evident in the finished block that give the objects a 3 dimensional look?  What is the scale of the Lego blocks and how do we use principles of proportion to keep the block in scale.
Proportions of a Lego block
Tutorial | Creating the Lego Block
Tutorial | Creating the Alternate Direction
Once Lego blocks are created going in both directions, vary the size of the rectangles, and adjust the Extrude Depth in the 3D Effects to create a variety of  colored blocks in different sizes yet in the same proportion and scale. As you make new blocks, begin to construct a Lego structure with the different blocks.
Creating a variety of Lego
Ramelli
Finished Student Constructions
Creating the Lego Figure



figure 1 link                      figure 2 link                         figure 3 link
Chuck Close
Chuck Close creates large realistic portraits using small squares of color to show the features of the face. His techniques led him to a great deal of fame in the 1960s and by the 1970s, Close's work was shown in the world's finest galleries, and he was widely considered one of America's best contemporary artists. He was born July 5, 1940, in Washington State. His parents where artistic and showed a lot of support for his creative interests. He still paints today.
.
Tutorial | Creating a Lego Style Portrait
Tutorial | Applying a Variety of Filters
.
.
Biography Task
Use the links below to gather facts about Chuck Close and compose a brief biography about the artist. Create a slide in your Google Portfolio that addresses the following questions, work to compose complete sentences from the information you gather, exemplar work would feature the research in at least 2 complete paragraphs.
What are the general facts about Chuck Close's life, birth date, birth place, parents and family life?
What information can you find about his childhood? What challenges did he face as a child?
What colleges did the artist attend, when did he attend, what did he study?
While at Yale, what was Close's signature style?
Who were some of the famous people Chuck Close painted?
What happened to Chuck Close in 1988?
How did Chuck Close continue to work in his new condition?
How did these events effect the look of his work his work?
What award or honors did Chuck Close receive?
How would you describe his paintings, how would you describe does his style?
What are the distinguishing characteristics of her artwork?
A Closer Look
.
.
.
Project Rubrics



Lego Sculpture
Some amazing constructions have been created using Lego blocks, most notable are the works of Nahtan Sawaya. Mr. Sawaya builds large three dimensional sculptures using Lego bricks and has exhibited them in museums and galleries around the world. Use his samples as inspiration for your own digital Lego construction. Notice how we can see the texture the Lego nodes makes within the pieces. As you create your build, try to keep the structure open so the nodes are evident in the work rather than building solid block structures.
Nathan Sawaya, Yellow
Nathan Sawaya, Think
Nathan Sawaya, Cracked
image link 1                            image link 2                              image link 3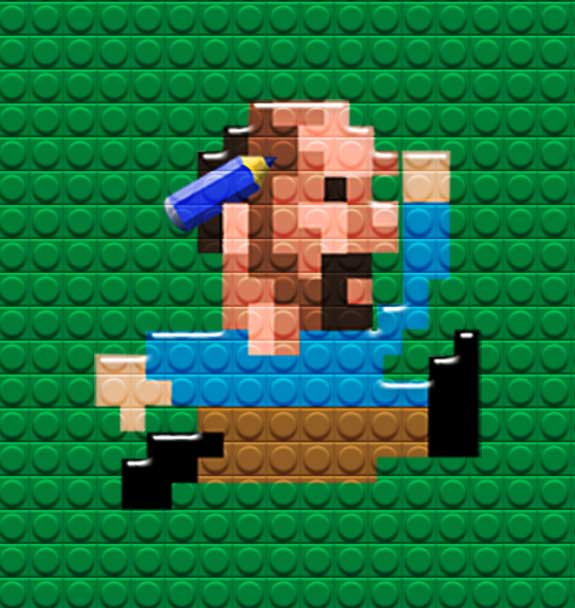 Image Source: Nathan Sawaya, photo courtesy of brickartist.com