William Henry Johnson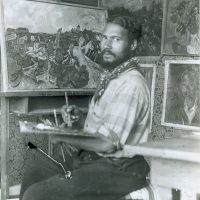 William Henry Johnson was an African American expressionist painter.  He was born on March 18, 1901 in Florence, South Carolina to mother Alice Smoot Johnson (known as "Mom Alice" or "Aunt Alice") and father Henry Johnson.  William H. Johnson was the oldest of five children: Lacy, Lucy, James, and Lillian.  Johnson spent his childhood helping out his family, finding a joy for painting, and attending rural grade schools in Florence.¹
Questions to Consider
What are some of the distinguishing features of Johnson's  paintings?
What symbols, images, or themes does Johnson use a repeatedly?
What are the different parts of his compositions and scenes?
What themes or ideas do you think are important to Johnson?
Can you list the various components of his composition?
How would you prioritize the different images you gathered?
How would you organize elements within a composition to create a story or theme?
What way would you design a story or a theme using the images you gathered?
How do the skills developed in the previous projects help develop the new illustration?
How would you organize the various elements so that all the items make a balanced whole?
How would you apply the knowledge you gained about the subject to develop a website?
Articles

Johnson, William Henry (1901-1970)
Biography, related references,

Florence County Museum, South Carolina

Art and Life of William H. Johnson:
A Guide for Teachers
Sources:
Jackson, Joelle, University of Washington, Seattle, http://www.blackpast.org/aah/mcnair-ronald-e-1950-1986
¹ Brittany Rose Rogers, Johnson, William Henry (1901-1970), University of Washington, Seattle, http://www.blackpast.org/aah/johnson-william-henry-1901-1970
http://www.scnow.com/news/local/article_a8b31b8e-0b87-11e3-b928-0019bb30f31a.html
Rodgers, Britany Rose, University of Washington, blackpast.org
Art and Life of William H. Johnson: A Guide for Teachers, http://americanart.si.edu/education/classroom/help/bio/
Rogers, Brittany Rose, Johnson, William Henry (1901-1970), University of Washington, Seattle, http://www.blackpast.org/aah/johnson-william-henry-1901-1970
http://americanart.si.edu/collections/search/artist/?StartRow=1&ID=2486&skip=1&CFID=1498980&CFTOKEN=86314875