Career Research Infographic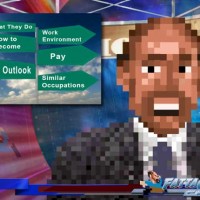 Utilizing Internet resources and statistical data from the US Bureau of Labor Statistics, career searchers can access important information and detailed aspects about various fields of study. After reflecting on your aspirations, favorite areas of study, and career goals, choose a career that you will study and report about in a graphically styled informational poster. Now referred to as an infographic, this design is intended to communicate information with pictures and data rather than long bodies of text. Following the principles of graphic design, the design should carry a strong theme incorporating color harmony, related images, graphs, and charts. They are used mostly on the internet and are often very long scrollable documents in pdf format so they can be shared easily. Use the following resources to gather information about the career of your choice and consider the questions to answer that follow .
FattaCast™ | Career Research & Key Factors

Finding a career that will be rewarding for you takes time, planning, and preparation. Begin your research with Mr. Fatta as he guides you towards the 6 Key Factors to search for when finding a career. Then on to the Bureau of Labor Statistic' Occupational Handbook where you'll explore your career in more detail.
Choosing a Career
To choose a career that you will research for this project draw on different aspects of your personality such as your interests, hobbies, cultural background and family traditions, innate talents and skills to help you decide which career to research. Channel your personal attributes and peruse the various careers featured on the Bureau of Labor Statistic's (BLS) K-12 Career Exploration site or search for the career you have in mind using the BLS Occupational Handbook.
Alternatively, if you don't know what you want to do you can research jobs that are expected to be in high demand in the next 10 years. This will let you focus your search on a career that is expected to grow and provide a lot of opportunities in the future. For additional information about careers in high demand check out this article Hottest Careers for College Graduates from the College Board.
Use the questions below to guide you in your research about your career. Use Google Drive to create a new document titled Career Research Outline and share it with Mr. Fatta. Copy and paste the Questions to Answer onto your document and use the resources to gather your information ion the outline.
Questions to Answer
What career have you chosen to research?
What is the nature of the work, what do they do?
What is the work environment like?
What kind of education or training does one need to enter this profession?
How many years of college or schooling?
Employment, how many people where employed in this work in 2013?
What is the job outlook for this work in the future?
How many people will be needed by 2023?
What is the projections data for 2023?
What percentage change will there be by 2023?
What is the range of earnings can be made in this profession?
What is the starting salary?
What is the median salary?
What is the high-end salary?
What are three related occupations within the field?
View my Flipboard Magazine.

Writing Content from Source Material
In graphic design content, or copy, means the text elements in a design. When writing content it is important to write the information using your own words and to not copy from the web site or source material. It is also important to cite (list) the sources of the information you use to write your content using a format called APA Format, listing the author's last name, first initial, date published, article or website title, and the web address. For example when citing something from this page one would write; Fatta, L., 2/18/2015, Career Research Infographic, www.mrfatta.com/infographics. Use the following tutorial below to guide you in writing information about your chosen career from the links below.
Mr. Fatta's Graphic Design Career Essay 
Source Information and Resource Document Links
Use the questions posed on the Career Research Outline, copy and paste them onto a new Google Document in your Google Drive. Answer the questions posed on the document using the resources provided below. Share your Career Research Outline with me.
Bureau of Labor Statistics | Occupational Handbook | Graphic Designer 
Bureau of Labor Statistics | Occupational Handbook | Fashion Design
Bureau of Labor Statistics | Occupational Handbook | Purchasing Managers and Buyers
Bureau of Labor Statistics | Fashion Design | Spotlight on Statistics
Bureau of Labor Statistics | Occupational Employment and Wages | Fashion Designers
Bureau of Labor Statistics | Multimedia Artists and Animators
Bureau of Labor Statistics | Careers in Video Game Development
Mr. Fatta's sample essay about Graphic Designers using information from the BLS.

Creating an Infographic From Data
.

After reviewing the graphic design samples provided, develop a poster that conveys information about your career using elements of text color, shape, and images. Use the information about color psychology from the link on the right, determine which color harmonies fit your career. Recall your prior knowledge of principles of graphic design and analyze the various sample infographics,  recognize similarities, common elements and notice examples of contrast, repetition, alignment, and proximity.
Contrast
Contrast helps attract attention to a design. Contrast can be created by making elements of color, shape, text, value, or size of objects on your page very different. If elements such as type or color are not the same then make them much different. Objects that are too similar but different do not create contrast.
Repetition
Repeating elements in a design such as color, fonts, textures, or shapes throughout a design help create repetition, or pattern within a design. These principles help create unity and establish a theme in the design.
Alignment
All elements such as text boxes and images in the page should line up to something else on the page, elements should not be placed randomly in the design but help create a pattern. Using columns, guidelines, and live guides helps the designer align elements on the page.
Proximity
Proximity is the nearness to other objects in the design, pictures and text that relate to each other should be placed close together. When several components of a design are near each other they visually become one, rather than separate units. Pictures, text, and information on a cereal box about a free toy are often placed in close proximity, so too are design elements about the cereal's nutritional value.
.
Sample Infographics
Mr. Fatta's Career Research Piktochart Sample

Are People Sharing Too Much Online | Infographic
Statistics about peoples sharing habits online.
Source: Your Social Media Company

Ultimate Cheat Guide to Matching Shirts & Ties | Infographic
Safe and risky combinations of pattern in men's fashion.
Source: Beckett Simonon company, http://www.beckettsimonon.com

Phil Postma's Comic Cereal Box Designs 
Study the graphic design's layout. How can you express
the data using a cereal box format?

Comic Book Covers 
Comic book covers have a very distinct format,
placing information though out the design.
Project | Using the Piktochart Site
Work Environment and Qualifications
Creating Charts and Displaying Salary Data
Project | Creating a Basic Graphic Design in Illustrator
Project | Creating a Basic Graphic Design in Photoshop
Further Questions to Consider
What are the most important facts and trends about a career or a filed?
Why is it important to know certain statistics when researching a field?
What could be the consequences of not knowing certain things about a field?
How do you find information, analyze, organize, and create a graphically organized design?
What is projection data and how does it determine how many people are needed in the field in ten years?
How might the facts effect the choices you make in pursing a career or entering a field of study?
How can you use the facts you gathered to recognize and take advantage of trends within a field?
What is the value or importance of job outlook and projection data?
What changes would you make to your career choices based on what you've found?
How can you adapt your personal interests to find a rewarding career?
What facts surprised you most about the career you researched?
What related fields would you pursue instead, what are some of the pertinent facts about these fields?
Related Career Links

mrfatta.com | College Readiness
Graduation may  seem to be far in the future but it will be here before you know it. Benjamin Franklin said, "If you are failing to plan, you are planning to fail."


mrfatta.com | Portfolio Requirements 
Schools of art & design require visual representations of your work in the arts. Colleges often have different requirements for portfolio entries.


mrfatta.com | Job Search
The following links are job search engines that will help to find a job in the Middletown area.
Addition Links

Dark Horse Provides a variety of info graphics, showing how simple
designs can communicate information effectively.


Qunb Article: Why We Hate Infograpgics (And Why You Should)  Cyrille Vincey. In this article the author shows how
too much information within a graphic can create confusing message.
Schools of Art and Design and Grants Links to resources from  art and technology schools as well as grant resources for higher education.
Top Ten Jobs for the Next Decade and Beyond
What Jobs are Hot in Arts & Humanities?
Hottest Careers for College Graduates
http://awesome.good.is/transparency/009/images/009_on_driving.jpg
http://d1qv53vvfy0ptp.cloudfront.net/wp-content/uploads/2012/08/Color-psychology-infographic-1.png
https://docs.google.com/spreadsheets/d/1Pp9Co01OVM4zimazsc5HMywVryUsFcOlA7N3HcbAv8w/pubhtml