Google Portfolio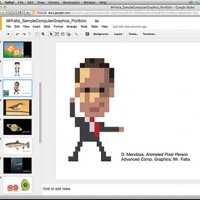 A digital portfolio can be created using Google Slides, which we will called Google Portfolio for the sake of the course. The portfolio will come to represent all the work you created throughout the year. Your portfolio will include projects you created throughout the course. All projects are graded from the students' Google Portfolio; it is how work is handed in through out the course of the year. All students are require to be able to optimize images from Adobe Illustrator, Photoshop, and other applications (converting an Adobe image to a .jpg, .png, or an .ai, etc.) using the File menu item, Save for Web. This is referred to as File>Save for Web. Here are a few different samples of Google Portfolios for Foundations In Media, Computer Graphics, Fashion, and Animation.
Tutorial | Creating a Google Portfolio
.

Tutorial | Save As… JPEG
.
Tutorial Links

Tutorial –  Google Sharing:
This old school site page directs students on how
to share Google documents with other people.

Tutorial – Creating a Document
This old school site tutorial shows how to
create a new document in Google Drive

Tutorial – Optimizing Image
Also know as Save for Web, this tutorial will
show students how to save documents for the web
from Photoshop or Illustrator
Sample Portfolios

Sample Foundations Portfolio
Presentation style, a highlight
of student works from
Foundations 2013-2014

Sample Computer Graphics Portfolio
Presentation style, a highlight
of student works from
Computer Graphics 2013-2014