Georgia OKeeffe – Cityscapes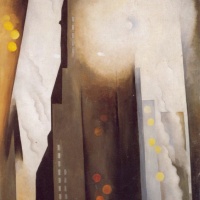 Georgia O'Keeffe was born in Wisconsin in 1887. She longed to be an artist from an early age. When she was 18 she attended the Art Institute of Chicago and a year later went to study at the Art Students League of New York. She worked briefly as a commercial artist in Chicago before moving to Texas to teach. In 1922, at the age of 35, she married photographer and gallery owner Alfred Steiglitz and she became very famous for her large flower paintings. After her husband died in 1946, she moved to New Mexico to paint the desert scenes. Her fame continued to grow throughout the 1950s and 1960s. In 1971 her eye sight deterioratd dramatically and she couldn't paint for 3 years. In 1985 she received the Medal of the Arts from President Ronald Reagan. She lived to 98 years old.
Georgia O'Keeffe's Cityscape Paintings
Project Tutorial
Biography Links
 Minneapolis Institute of Arts, The Natural World of New Mexico Inspired  Georgia O'Keeffe.
Georgia O'Keeffe Museum, About Georgia O'Keeffe
Art Smart 4 Kids, Georgia O'Keeffe
Questions to Answer
Where and when was the Georgia O'Keeffe born?
Where did Georgia O'Keeffe grow up?
What information can you find about her childhood? What was she like? What where her interests?
What colleges did the artist attend, when did she attend, what did she study?
What awards did she receive at Art Students League?
What job did the artist have after college, where did she work, what did she do?
Who did she marry, what did he do for a living, and how did he help her career?
According to the O'Keeffe Museum Biography, what are some of her best-known pictures?
Where did Georgia move to after her husband died, when did that happen?
What did Georgia types of paintings did she paint in New Mexico
What are some things that influenced or inspired the artist?
How did the New Mexico environment influence her work?
How would you describe her bones work, what does it look like?
What are the distinguishing characteristics of her artwork?