Collage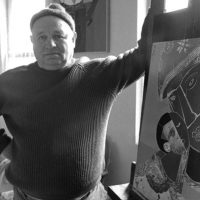 Romare Bearden (1912-1988) was born in Charlotte, NC and moved to Harlem, NY when he was 3 years old. He studied art at the Art Students League in NYC. His art career started as political cartoonist for the Baltimore Afro-American. Bearden painted abstract pictures for a time but found more success when he began to combine his paintings with different collage techniques. He gained  recognition after a major art exhibit at the Museum of Modern Art, and in 1967 organized a major exhibit of 55 African American Artists.
.
Questions to Consider
What are the distinguishing features of Bearden's collages?
What motifs, symbols, or icons do you see his many images?
What experiences could Bearden's artwork recall in your mind.
What are the different part or elements of his work, how is it made?
Based on the evidence, what do you think he is trying to say?
If you're on your phone, could you list the parts of a picture?
How would you prioritize the images you gathered for your collage?
How would you organize elements to create a story or theme?
How did the skills from the last project help your new efforts?
How would you organize and balance the various elements to create a sense of unity?
How would you apply the knowledge you gained about the subject to develop a report or a website?
Articles and Media
The Great Migration, The African American
Migration Experience

 The Art of Romare Bearden
A Teachers Resource
National Gallery of Art, Washington DC
Art Work of Romare Bearden

.
Collage
Collage generally refers to a 2 dimensional assemblage or combination of different items together to create a new overall composition. The term collage originally comes from the French word coller, which means to glue. In computer graphics or computer generated imagery, images are combined together without the traditional cut and paste as in the featured image of the child in the room with all the animals. In this project students are to combine a variety of images around a central theme and practice the various collage techniques for selecting items to form a new image. When gathering pictures for a theme it is important to think of many ideas that can be related to your main theme.
.
.
How would you describe some of the themes in the collages above?
How are they different, how are some of them the same?
What are the different color harmony or color themes evident in the works?
Photoshop Collage
Use the following tutorial as a guide to combine 25 or more separate images together in a single composition. The finished composition should express a central theme using a variety of different images. Work to expand the ideas of the theme to include objects and items that usually aren't associated with it. A central part of the grade also depends on the student's ability to make precision cuts and selections around an object by skillfully using both studio and digital tools to cut and paste images. Cut and store paper images in the envelops provided, save and title digital images in your network folder (Do Not to delete the extension). Find images that will work to build a background setting to the images selected. Open each image in Photoshop and use the appropriate selection tool to cut the image from the original scene. Title and save the selected item as a png.  Create a new document 11 inches by 8.5 inches titled Collage. Copy and paste the background image and all selected images onto the page, transform, resize, and place as needed. Experiment with the various effects, distortion tools, brush hardnesses, and transparency settings.
Tutorial | Magic Wand Tool
.
.
Tutorial | Magnetic Lasso Tool
.
Tutorial | Quick Mask Mode
.
.
Vocabulary Concepts
Collage n. 1. a form of art in which various materials such as photographs and pieces of paper or fabric are arranged and stuck to a backing.
Composition n. 1. Arrangement of artistic elements so as to form a unified whole.
Color Harmony n. 1. A grouping of colors based on relationships between the colors on the color wheel.
Depth n. 1. the amount of space in a picture.
Space n. the feeling of depth in a picture.
Shape 1. the outward form of an object defined by an outline.
Theme n. 1. A subject or motif of a piece of work.
Project Rubrics
Student Works
.
Additional Links
Romare Bearden Biography From the National Gallery of Art in Washington The Art of Romare Bearden at the National Gallery of Art The Romare Bearden Foundation The Art of Romare Bearden | A Resource for Teachers The National Gallery of Art
alt media links

Paper Collage
By working together you can gather images that will let you create a portrait, a series of figures in a setting, or landscape scene using a variety of images that you will compose within a collage.
Work with the your classmates to gather, organize, and share images related to the theme you've chosen to use for your collage. Choose to create a portrait, a scene of figures, or a scene/place. Each option should include a background setting, middle ground medium sized areas, and small details. Use the rubrics below to assess and evaluate your work against the project's criteria.
1. Print your name and period number on the envelop provided, tape or secure the envelop into your sketchbook as a pocket to save the images into.
2. Gather 5 images related to your theme from the materials provided. Create a thumbnail sketch for each one in your sketchbook. Darken the lines and shade the thumbnails, add details and frames.
3. Gather additional images that will let you construct your subject using various parts from different images using the techniques we see in Romare Bearden's work. Include images for background areas that will be the setting for your subject.
4. Select through the images gathered to layout the background areas of the collage combining the images with other textured papers provided. Skillfully paste the background areas onto the 9 x 12 inch paper provided.
5. Design the different subjects in the scene by skillfully cutting the subjects from your images and neatly pasting down to the page combining many different parts together.