Advanced Computer Graphics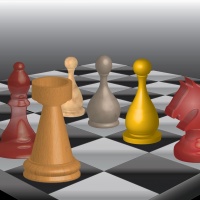 Students taking this course will realize the potential of the computer to create and manipulate visual imagery with the blending of traditional artwork and digital manipulatives. Building skills students can take with them into the work world, they will will create artwork relevant to the publishing field as well as the Arts. Programs such as Adobe Illustrator, Photoshop, and InDesign will be introduced, and no prior knowledge for these programs is required, an aptitude for computers is helpfull.
Color harmony is the result of grouping colors together to create a mood or theme within the work. For example, an artist may use mostly blues and purples to create a cold or calming feeling within the design; blues, purples, and greens, especially bluish greens are known as cool colors. On the other hand, reds, oranges, and yellows are known as warm colors and they may be used to create a warm or more vibrant feeling. In both examples the colors are similar to each other and next each other on the color wheel; similar colors are called...
read more