Silent Actresses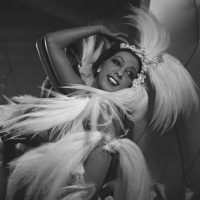 Hollywood movies offer a glimpse into the fashions and styles of the times. In the early days of Hollywood, movies were silent and featured actresses and actors who would mime and gesture their parts in order to create dialogue in the story, also, title cards had written dialog to show the audience what was being said. Josephine Baker was a dancer and singer who became wildly popular in France during the 1920s. She also devoted much of her life to fighting racism. She was born on June 3, 1906, in St. Louis, Missouri, Josephine Baker spent her youth in poverty before learning to dance and finding success on Broadway. In the 1920s she moved to France and soon became one of Europe's most popular and highest-paid performers.
Use this link and this link to get familiar with some of the other most well known names in early Hollywood. Search online for images that depict your star in various outfits and settings and save them to your drive. Use the Photoshop skills developed in the previous collage project to create a collage in a similar vein to the images featured below.

MudCube Explore the different patters that can be
created with using the different menus and swatches
provided. Demonstrate your ability to…
.
Kathrin Kuhn | Fashion Designer
.
Tutorial | Silent Actress Collage
1. Josephine Baker Biography, Biography.com, https://www.biography.com/people/josephine-baker-9195959, retrieved 3/6/2018